Covid-19 Social Distancing: Please Join our Online Zoom Meetings

The Covid-19 Pandemic has forced us to close our doors for a few weeks. We have not stopped functioning as a community however. We would like you to join us online for regular Zoom meetings.

Schedule:

Saturday Mornings: 10:00am to 11:00am. Interactive Bible Study following the Sabbath School Quarterly.
(Children's Zoom classes are also being organised. Please e-mail pastor Weiers Coetser if you would like your children to join.)

Prayer meetings on the following Tuesday evenings at 7pm

Tuesday, 7 April. We'll study the Gospel of Matthew, chaper 4.
Tuesday, 21 April. We'll study the Gospel of Matthew, chapter 5.
Tuesday, 5 May. We'll the Gospel of Matthew, chapter 6.

How to Join:

From the https://zoom.us website or the Zoom app on your phone or tablet, select "Join a Meeting" and enter the meeting ID: 7787755231
Or follow this link: https://zoom.us/j/7787755231
Need help: E-mail Pastor Weiers Coetser.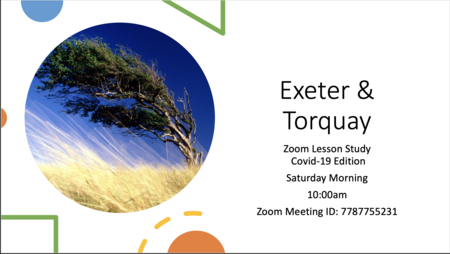 Welcome to Exeter Seventh-day Adventist church. Were a friendly, welcoming church community, based in King William Street, Exeter. We worship weekly on Saturday (Sabbath) mornings, and engage in various acts of prayer and service at other times during the week.

We would like to welcome you if you choose to worship us. You can simply drop in at one of our services. Or, if you prefer, let us know that you are coming and we will look out for you.

Our church is a family-friendly church, with services and activities for everyone.

Service Times:
Saturday (Sabbath)
Prayer 09.45 - 10.00
Bible Study (Adults and children) 10.00 - 11:00
Family Worship 11:15 - 12:30 * Hot and cold drinks are served each week immediately after the service.  All are welcome.

Study Discussion and Prayer Meetings
Every second Tuesday evening at 7.00pm we meet in various homes in Exeter and east Devon, to discuss the Bible chapter by chapter. Currently we are discussing the Old Testament book of Esther.

All are welcome. Please contact us to confirm dates, times and venues.